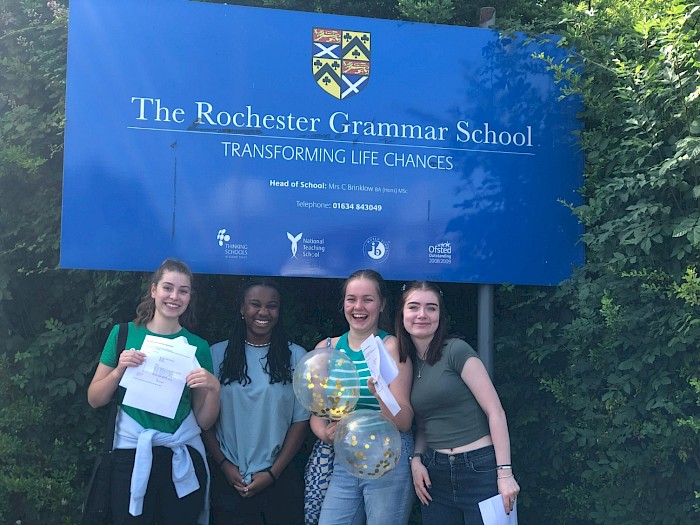 Students at Rochester Grammar School are rejoicing today as they have achieved another brilliant set of International Baccalaureate Diploma Programme (IBDP) results and the school is delighted to have many of their students progressing on to some of the country's leading universities in September.
The IB programme is designed to prepare students for university. Students are graded out of 7 in three higher subjects and three standard subjects across a range of disciplines, including English, Maths, Sciences, Languages, Humanities and the Arts. Students also complete a Theory of Knowledge course, an Extended Essay and 150 hours of CAS (Creativity, Activity, Service). CAS covers non-academic activities such as volunteering, learning new skills and community projects. Students are graded out of 45 for the entire IB Diploma. Rochester Grammar School offers this exciting curriculum in the Sixth Form to allow the students to develop their full potential and to offer an internationally recognised education.
This year, students have excelled, achieving an average point score of 34, well above the global average of 30.24
Jessica Rooke was one of only 25 students in the UK who achieved the maximum score of 45 points. This is a truly outstanding feat putting her in the top 0.5% of students who took the IB Diploma globally. Jessica has secured a place to study Film Production at Arts University, Bournemouth in September.
A number of our students gained 40 or more points from their Diplomas, equivalent to gaining A*A*A at A level, including Naveen Kaur, Madeleine Stubbs-von Onciul, Emily Riley and Ria Dhillon, who will go on to study at institutions such as the Universities of Bath, Bristol and Warwick. These students join only 775 other UK students to obtain 40+ points in their Diploma this year.
48% of the 23 subjects available to study at Higher Level achieved 100% grades 5-7 and this statistic was replicated among the Standard Level subjects, demonstrating the IB expertise within the school.